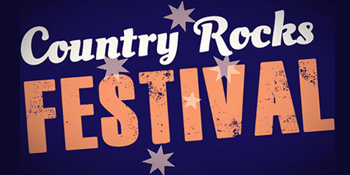 Country Rocks presents
Country Rocks Festival Bungendore 2021
with special guests
Bungendore Showground (Bungendore, NSW)
Fri 26 - Sun 28 March 2021 8:00 am
Country Rocks and KIX Country are very excited to announce
the dates and line up for the Country Rocks Festival 2021.
​Country Rocks will be hosting the festival in the beautiful heritage town of Bungendore in NSW at the Showgrounds, which offers fantastic camping facilities and a genuine country atmosphere.
The event will include a huge line up of Country Rock artists. Headlined by Aussie Legend Country Rockers, The Wolfe Brothers!
Followed by the best of Australian Country.
Jetty Road, Drew McAlister, Kirsty Lee Akers, Andrew Swift, Bill Chambers, Cornell & Carr, Viper Creek Band, Darlinghurst, Cameron Daddo, Ben Ranson, Brewn, Tori Darke, Neillyrich, Cloe Styler, Ingrid Mae, Copperline, Abbie Ferris, Stewart Barton, Bo'ness, The Johnny Cash Show + More.
Hosted by Justin Thomson from KIX Country Radio.
Also on offer an onsite bar with a huge range off drinks including Craft Beers, Street Foods, Fire Pits, Rides, Market Stalls, Camping plus much more!
Country Rocks will again partner with the local Rural Fire Service and Rotary, raising much needed funds for the local brigades and local charities.
A full weekend of Camping, Music, Great Company, awesome Food and Drinks, plus plenty to do for the whole family.